Playground Accident Cases
Playground Accident, Playground Injury, Defective Playground Equipment Cases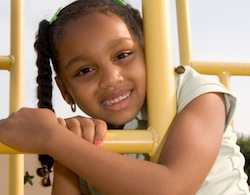 Every year, approximately 200,000 children end up in emergency rooms from playground injuries. Most of these injuries consist of fractures, concussions, internal injuries, crush injuries, or dislocations. Of those, between 15 and 20 die from their injuries (usually head, neck injuries or strangulation). And here's how they get hurt: Seventy-five percent of them are injured in falls. Children typically fall off of monkey bars, climbers, swings and slides. The non-fall injuries usually result from running into things (either other kids or playground equipment) or strangulation. One of the most common "games" that causes injuries is "tag" --- where kids run into playground equipment, each other, or trip and fall.
About 45% of playground injuries are serious: fractures, dislocations, concussions, internal injuries, and amputations. About 75% of nonfatal playground injuries occur on public playgrounds, usually at schools and daycare centers. Girls sustain playground injuries more often than boys (55% to 45%). Children ages 5 to 9 are the most likely to be injured. The majority of playground injuries happen at school playgrounds. Some studies show that playgrounds in low-income neighborhoods have more maintenance-related injuries than playgrounds in higher-income neighborhoods.
Most playground injuries are caused at least in part by lack of adequate adult supervision. But the playground itself is sometimes defective, antiquated, or poorly designed, or badly maintained.
The U.S. Product Safety Commission publishes a "checklist" for playground safety, which provides a starting point for a lawyer investigating a playground injury case. The main check points are:
The playground surface around should have at least 12 inches of mulch, wood chips, sand, pea gravel, or other soft surface material. This soft, protective surfacing should extend a minimum of 6 feet in all directions from the play equipment. For swings, it should extend twice the height of the suspending bar in front and back. The play structures should be no more than 30 inches high and should at least 9 feet apart. Potentially dangerous hardware such as hooks or bolt ends should not protrude. The design should ensure there are no openings or spaces that could trap children or strangle them, such as openings between ladder rungs. Such openings should measure less than 3.5 inches or more than 9 inches. Sharp points or edges in equipment must be eliminated. Tripping hazards, such as concrete footings, rocks, tree stumps, must be removed. Elevated surfaces, such as platforms and ramps, must have guardrail.
Above all, though, children should be supervised on playgrounds. If the accident happened during school hours, then the school may be liable for negligent supervision. Playgrounds are fun. We need them to give our kids exercise and a place to explore. But we also need them to be safe.
The Auburn, New York playground accident attorneys of Michaels & Smolak have recovered millions of dollars for children injured in playground and other accidents. If your child has been the victim of negligent supervision on the playground, or of badly designed or maintained playground equipment, contact us for a free consultation with an experienced lawyer who can inform you of your legal rights and maximize your child's compensation.